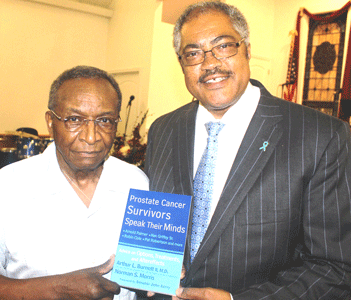 Jim Thomas (left) with Dr. Arthur L. Burnette II (right) who was the featured speaker at a recent community health service forum about the importance of early detection, diagnosis and treatment of prostate cancer. Dr. Burnette is the author of two books "Johns Hopkins Patient's Guide to Prostate Cancer" and "Prostate Cancer Survivors Speak Their Minds."
Stories this photo appears in:

Recently, Jim Thomas joined about 30 interested participants at a Community Health Service Forum targeting Prostate Cancer Health and Urology Research. Dr. Arthur L. Burnett II, a professor from the Department of Urology at Johns Hopkins University School of Medicine, where he is also director of the Basic Science Laboratory in Neuro-urology was the featured speaker.