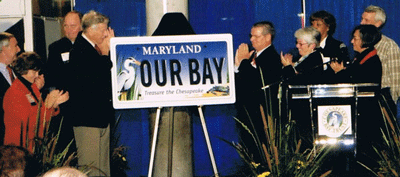 Governor Harry Hughes stands with fellow board members and legislative representatives at the unveiling of a new design of the Chesapeake Bay license plate in 2004.
Stories this photo appears in:

Governor Harry Hughes was the inspiration, along with Dr. Torrey Brown, for the establishment of the Trust, an entity they saw necessary to provide the resources that enable community groups, schools, homeowners associations, civic associations, scout troops, etc. to take action to measurably improve local communities and ultimately, the health of the Chesapeake Bay, rivers, and streams.