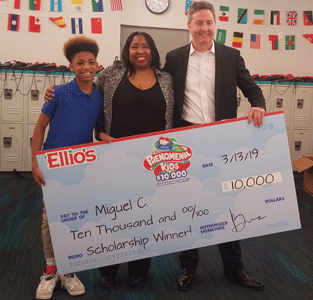 Yolanda College (middle) adopted Miguel Coppede (left), when he was a baby. The mother and son duo continue to accomplish great things. William Whalen (right), executive vice president of Dr. Oetker USA, LLC presented a $10,000 scholarship check to Miguel Coppedge (middle) on March 13, 2019 at  Washington Global Charter School, located in Washington, D.C.  Miguel attends the school and is a seventh grade honor roll student.
Stories this photo appears in:

Miguel Coppedge won Ellio's 2018 Phenomenal Kids Scholarship Contest, which recognizes phenomenal kids in its second year of existence. Several months ago, Miguel participated in The Holiday Market Place that was held at Coppin State University's Talon Center Lobby, sponsored by Times Community Services, Inc., which allowed the social change-maker to spread his message about community policing and other superhero adventures to Baltimore, City. The young trailblazer has also been previously featured in The Baltimore Times while celebrating the joys of adoption.