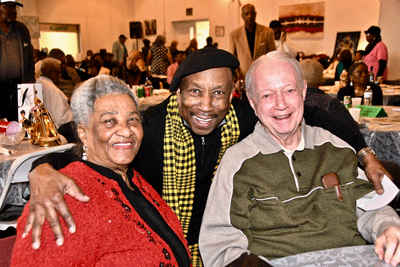 Eleanor Janey, Victor Green, and Author Huffman having a grand time at the recently sold out Jazz Expressways Breakfast Fundraiser at the Forest Park Senior Center.
Stories this photo appears in:

The inaugural Asia North Festival which celebrates the art, culture and Korean history and heritage of the Charles North Community will be held from March 29 to 31, 2019 at the Motor House located at 120 W. North Avenue in Baltimore City. The festival will offer free performances and activities; Asian food by Baltimore restaurateurs; an art exhibition featuring work by Asian and Asian-American artists; a food and neighborhood tour; and an Asian-themed night market in Graffiti Alley.