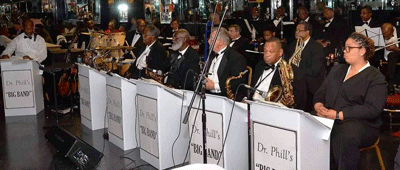 Dr. Phil Butts 17 piece Big Band will perform at the Avenue Bakery, 2229 Pennsylvania Avenue in the Courtyard on the corner of Pennsylvania Avenue and Baker Street on Saturday, May 4, 2019 from 4 p.m. to 8 p.m. hosted by owner of Bakery, James Hamlin. It is free and open to the public. Bring your lawn chairs and come out and enjoy. Food and drinks are on sale.
Stories this photo appears in:
Hello everyone, I hope everything is well with you. There is so much going on in Baltimore for the next couple of weeks, so I'm just going to get started right away. I am going to warn you that you are going to need plenty of gas in your car. First, check out the pictures on my page and mark the dates of the events on your calendar.