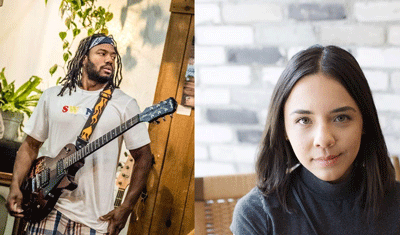 (Left) Guitarist Muammar Muhammad at a Sofar Sounds show in Tampa Bay, Florida. (Right) Talented poet m.ello. Both artists say they are influenced by exposure to other art mediums other than their own art forms.
Stories this photo appears in:

Muammar Muhammad, a guitarist with a hub based in Baltimore has performed in New York, San Francisco, Florida, Denver and Chicago over these last few months. I caught up with him recently to ask if and how he uses other mediums of art to influence or propel his music.