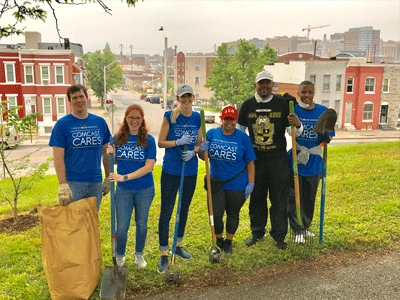 Kevin McCarthy, Senior Manager, T. Rowe Price; Savannah Isner, Senior Specialist for Comcast Public Relations; Jessica J. Gappa, Director of Community Impact for Comcast Cable; Dana Robinson of the Baltimore Alumnae Chapter of Delta Sigma Theta Sorority, Inc.; Lawrence Williams of Delta Lambda Chapter of Alpha Phi Alpha Fraternity and his son Ethan Williams, 15, during the 18th annual Comcast Cares Day on Saturday, May 4, 2019.
Stories this photo appears in:
Comcast Holds 18th Annual Comcast Cares Day
Now in its 18th year, Comcast Cares Day is one of the largest corporate commitments to volunteerism and service in America. To date, more than 1 million Comcast Cares Day volunteers have contributed over 6 million service hours to improve local communities at more than 10,000 projects.