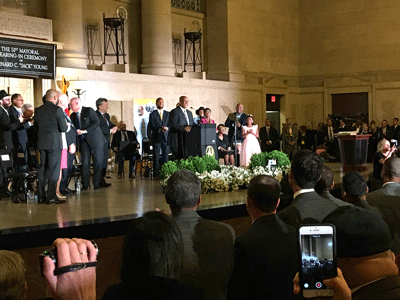 Mayor Bernard C. "Jack" Young
Stories this photo appears in:
Just In Time For Mother's Day
Hundreds packed into the War Memorial Building on N. Gay Street on Thursday, May 9, 2019 to see Bernard C. "Jack" Young take the Oath of Office as the 51st Mayor of Baltimore City. Among them was Ida M. Rather, mother of the city's newest mayor. "I am so proud of my son," said Rather who witnessed the special moment a few days shy of Mother's Day. "I thank God for all of my children. All of them are my favorites. I thank God for allowing me to see what I have witnessed here today."
Baltimore TimesWhen Catherine Pugh resigned just a week ago, Bernard C. "Jack" Young was fully vested as mayor of the city. As a result, we now have 35 year-old Brandon Scott serving as our City Council President!