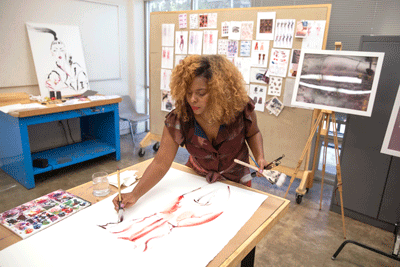 Kris Keys was inspired by slides of her own blood cells to support her brainchild— a capsule womenswear collection called Hematology. "Red Cell" and "Jaundice" silk travel scarves are already available, featuring Kris' dreamy, haunting prints, which clearly have a concrete influence.
Stories this photo appears in:

As a fashion illustrator, Kris Keys creates art from real life, in real time. She brings a canvas to life in feathery watercolor strokes, fluid yet precise. As a fashion designer, she's a storyteller, a modern traveler connecting her life with her art. Her clothing must be both beautiful and practical. Adventures await. As a woman, Kris carries herself with the quiet confidence of someone who set off to see the world while managing a chronic blood disorder. She knew what she wanted, and had the faith to make it happen.