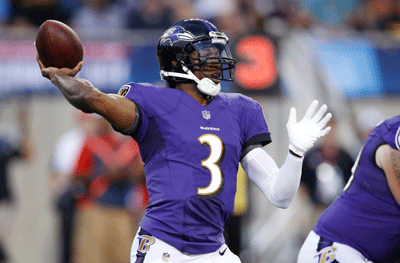 Baltimore Ravens back-up quarterback Robert Griffin III is grateful to get the opportunity with the Ravens. He decided that Baltimore is the best situation for him and has embraced his role as mentor to rookie quarterback Lamar Jackson.
Stories this photo appears in:

The Ravens signed Griffin to a one-year deal in 2018 after he was out of the NFL the previous season. Baltimore selected Lamar Jackson in the first round of the draft soon after signing Griffin. Jackson is a fellow Heisman-winning quarterback known more for his ability to make plays with his legs despite being a talented passer as well.