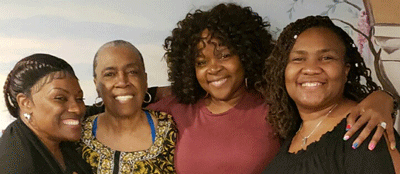 L-r: Pamela Reese (sister of Arthur Shepard), Dorothy Reese (mother of Arthur Shepard), and sisters Toni Saunders, and Brenda Sawyer Kluttz.
Stories this photo appears in:

Arthur Shepard had not seen Sawyer Kluttz since she was two-days old. Efforts to locate her proved fruitless until Brenda Sawyer Kluttz utilized Ancestry to contact family members of Shepard. That contact eventually led to a correspondence with him on Facebook. The two then utilized AncestryDNA to confirm they were father and daughter. The amazing chain of events culminated with the surprise reunion which took place in Harve de Grace, Maryland.