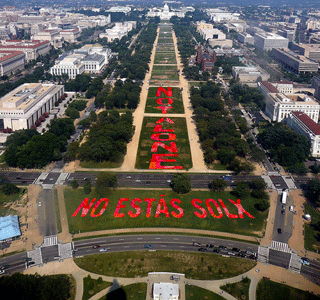 In what will be the largest tribute to sexual violence survivors in U.S. history, The Monument Quilt will blanket the National Mall from May 31- June 2. More than 100,000 people are expected to attend. Pieced together of more than 3,000 stories woven onto 4' x4' quilt squares, the Monument Quilt honors and centers the stories too often left out of public conversations of sexual assault and domestic violence. Every attendee and every person affected by sexual and intimate partner violence will see, hear and feel the messages: You are not alone. We believe you. You did not deserve it.
Stories this photo appears in:

Country's Largest Tribute To Survivors Of Sexual, Intimate Partner Violence
For the first time ever, The Monument Quilt, a public art project made by and for survivors of sexual and intimate partner violence, will be on national display as it blankets the National Mall in Washington, D.C. from May 31-June 2, 2019.