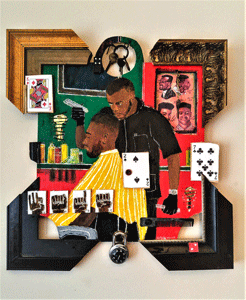 The Barbershop Series exhibition features the work of renowned Baltimore artist puppeteer, and museum educator Schroeder Cherry, Ed.D. The series pays homage to one of the most enduring African American economic and cultural institutions with bold colors, movement, symbols, and visual metaphors. Each piece is a multimedia collage emulating the voices, sounds, textures and personas that make barbershops a central place in community. The public is invited to an extended barbershop conversation during the Sunday, June 9th opening curated by L. Nef 'fahtiti Partlow-Myrick. The vehicle for this conversation is The Game Plan Sot:ial developed by Joshua Lee,LCSW-c who will host this dynamic interplay between art and community. Art by Schroeder Cherry: "Fade, Barbershop Series #28; acrylic on wood.
Stories this photo appears in:

After the death of Freddie Gray and the subsequent civil unrest in Baltimore, resulting in rioting, arsons and vandalism in many parts of the city in the spring of 2015, ShopTalk: Share. Heal. Grow., a community-based project was ushered into service.