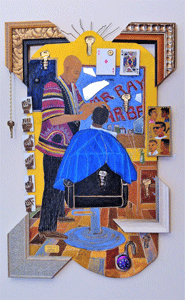 "Next Up, Barbershop Series"- Acrylic painting on wood. | Artist: Schroeder Cherry
Stories this photo appears in:

After the death of Freddie Gray and the subsequent civil unrest in Baltimore, resulting in rioting, arsons and vandalism in many parts of the city in the spring of 2015, ShopTalk: Share. Heal. Grow., a community-based project was ushered into service.