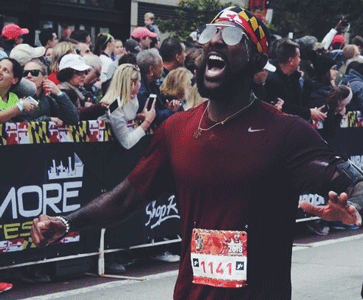 Charles (Chazz) Scott ran his first marathon— The Baltimore Running Festival in October 2018. He says it was the worst pain his body had ever endured but was also one of the greatest, most peaceful moments of his life.
Stories this photo appears in:

Hitting the "wall" refers to the point where the human body depletes all of its "stored glycogen and the feelings of fatigue and negativity, which typically accompany it." Glycogen is a carbohydrate stored in our muscles and liver to give our bodies energy. When the body runs low on glycogen the "brain wants to shut down activity as a preservation method, which may lead to negative thinking," causing the well-known "wall." I realized this was a test of true mental fortitude.