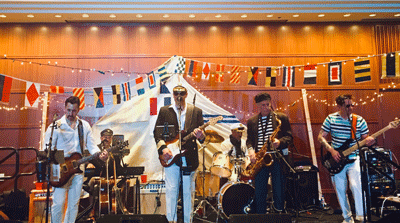 Gutterball Kingpin Band with United States Naval Academy grads play a wide range of 70's funk and 80's dance music.
Stories this photo appears in:

Downtown Annapolis will fill the Veterans Day weekend with events that celebrate and honor our veterans. The events start on Sunday, November 10, 2019 from noon to 5 p.m. with a Veterans Celebration block party on Market Space in downtown Annapolis. This event is open to everyone who appreciates our veterans and would like to spend a fun uplifting afternoon together with them and the community.