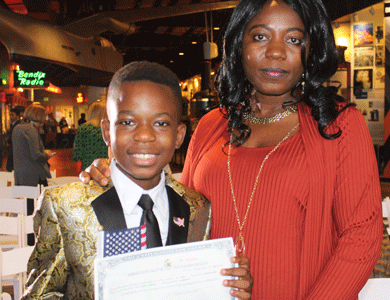 Twelve-year-old Ilian Asong of Prince George's County and his mother Rita Folefac proudly display Asong's U.S. Citizenship Certificate at the U.S. Citizenship and Immigration Service ceremony at The Baltimore Museum of Industry on October 31, 2019.
Stories this photo appears in:

Asong was one of 22 children from 17 different countries who obtained U.S. citizenship through their parents. Some were adopted by U.S. citizen parents; and others derived citizenship when their immigrant parents became naturalized citizens.