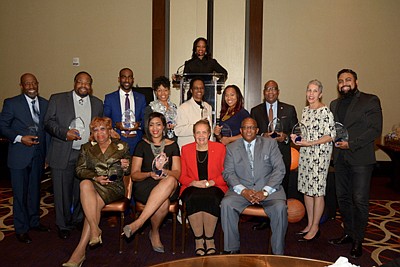 (Front row): Dr. Elaine Simon; Pam Curtis; Publisher of The Baltimore Times, Joy Bramble; Mayor Bernard "Jack" Young; (Back row): Jim Hamlin: George Mitchell; Charles "Chazz" Scott; Monique Smith-Person; Vaile Leonard; Monica Mitchell; Dr. David Wilson; Browyn Mayden, MSW; and Jason Bass. LaTara Harris (at the podium) was Mistress of Ceremony.
Stories this photo appears in:

The Positive People Awards, presented by The Baltimore Times and Times Community Services, Inc. was held at Horseshoe Casino on Wednesday, November 13, 2019. Photos by Gar Roberts.