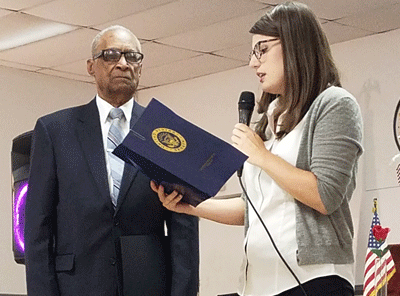 Former prisoner of war James Diggs (left), was recognized for his commitment to his country and community during his service in the Korean War and his persistence in the face of adversity on September 20, 2019, National POW/MIA (prisoners of war/ missing in action) Recognition Day at the American Legion Cook- Pinkney Post 141 in Annapolis. Senator Sarah Elfreth (right) presented him with an official citation.
Stories this photo appears in:

Even though Annapolis is well known for celebrating African-American heritage and historic neighborhoods, there are many stories of historical significance that remain untold. One local man, James Diggs' military story is just one those gems that should be firmly cemented in historical repositories.