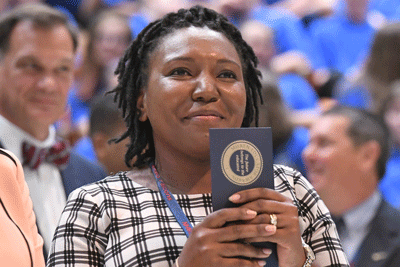 Eighth grade teacher Erin Wyatt at North Harford Middle School in Pylesville, Md. was the recipient of a Milken Educator Award with an unrestricted $25,000 prize.
Stories this photo appears in:

On Wednesday, October 2, 2019, Wyatt received a big lift at a surprise school assembly where she was presented with a Milken Educator Award by Milken Educator Awards Senior Vice President, Dr. Jane Foley and Maryland State Superintendent of Schools Dr. Karen Salmon. As a 2019-20 recipient of the national recognition, Wyatt receives an unrestricted $25,000 cash prize.