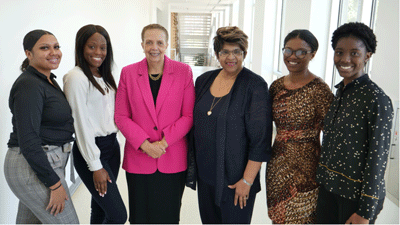 Morgan State University SCOM students and writers for The Baltimore Times were on duty at the Mind Your Business event. (L-r): Eryn Johnson; Cheyanne Gordon; Joy Bramble, Publisher, The Baltimore Times;Dena Wane, Director of Special Projects; Jasmine Kelly; and D'iara Washington
Stories this photo appears in:

Entrepreneurs and Aspiring Ones Receive a Wealth of Information
Watson was among the entrepreneurs and aspiring entrepreneurs who attended Mind your Business: Building a Network of resources for business owners and entrepreneurs. Presented by PNC Bank and Times Community Services, Inc., the free event was designed for small business owners, entrepreneurs, creative industry organizations and DIY (Do It Yourself) businesses.