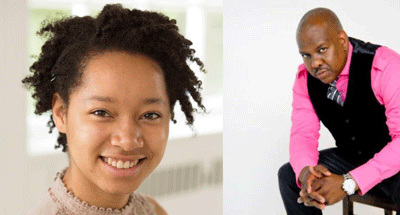 (Left) Baltimore School for the Arts student Jade Underwood will portray "Dorothy." (Right) National gospel recording artist Randy "Fruity" Roberts of The Choir Boyz will portray "The Wiz" in the Unified Voices of Johns Hopkins presentation.
Stories this photo appears in:

Unified Voices of Johns Hopkins (UV) proudly presents the highly acclaimed, Broadway classic The Wiz. The performances will take place Friday, October 25, 2019 (7 p.m.); Saturday, October 26, 2019 (2 p.m. & 7 p.m.); and Sunday, October 27, 2019 (5 p.m.) in Turner Auditorium, located in the Johns Hopkins Turner Building, 720 Rutland Ave., Baltimore, MD 21205.