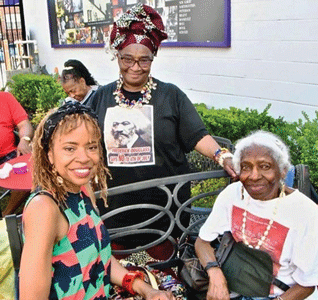 Edna "Grandma Edna" Lawrence and friends at the Avenue Bakery music Series on Pennsylvania Avenue & Baker Street.
Stories this photo appears in:

I hope your Labor Day weekend was all you wished for. My goodness, what a summer? I sure hate seeing it slowly creeping to an end but I have enjoyed every moment of it. With me rambling around to so many events this summer— shows, concerts, festivals, crab feasts and daytime cabarets and backyard parties, it seems like you had a hell-la-VA good time too. I saw you out there. Well, it's not quite over yet! Just follow my lead! My Boo-Boo (Shorty) and I have a few more places to take you.