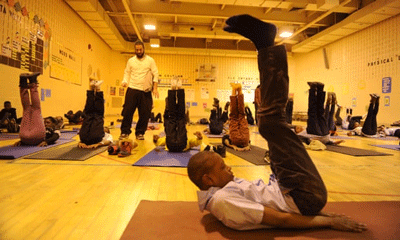 Patterson High School and the Robert W. Coleman Elementary School have
instituted the "Mindful Moment Room." (Above) Students at Robert W Coleman elementary school participate in breathing exercises during a Holistic Life Foundation program.
Stories this photo appears in:

A June 2019 University of Kentucky doctoral graduate's comprehensive research on the subject found that African American students receive discipline the most by detention, suspensions, and expulsions. In what has proved successful, two Baltimore schools have implemented a unique program, thanks in part, to the Holistic Life Foundation, a local social services nonprofit.