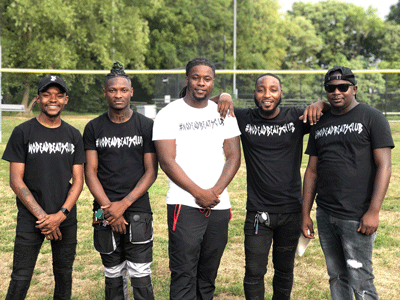 Men from the "No Dead Beats Club" pose in solidarity.
Stories this photo appears in:

The "No Dead Beats Club Back To School Bash" was held at the Pip Moyer Recreation Center on August 25, 2019. Haircuts, fun, and games were enjoyed by approximately 70 elementary and middle school students who all received two new uniforms per person. Cory McGhee founded the "No Dead Beats Club." The father assembled a team of volunteers in Annapolis who will continue to help local youth and families. Uniform donations are still being accepted. Photo: Alderman DaJuan Gay, Ashley Trusty, Kennedy Trusty, Michael Kelly, Dashawn Thomas volunteered to participate in the NoDeadBeatsClub, which was created by Cory McGhee (lower, middle). The team received citations from the City of Annapolis, for their efforts.