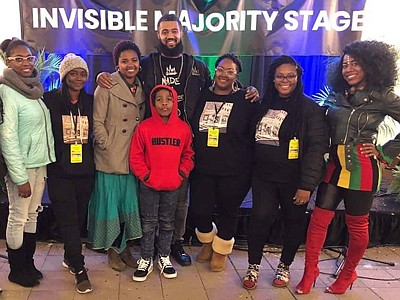 Sarah Wallace (third from the right) and the crew under Invisible Majority Baltimore tent at the 2019 Baltimore Book Festival (l to r): Carlissia Young, Samierra Jones, Catalina Byrd, Mia Loving, Aaron Maybin, Sarah Wallace, Nikiea Redmond, and Shawna Divine.
Stories this photo appears in:

Sarah Wallace is a Bunting Neighborhood Leadership Program Fellow (BNLP). The BNLP is a Johns Hopkins Urban Health Institute initiative "that aims to equip the next generation of Baltimore's community activists with the knowledge, skills, and tools to be transformative leaders.