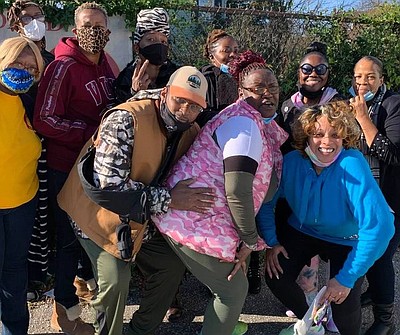 Pamela Rene Leak, aka Ms. Maybelle, along with her company and Brian Hall, aka Tee-Shirt Brian of D.O.T. Sports want to say a big thank you with much love to all the beautiful volunteers, including Agape Church, Trelton McCormick, Dee Dee of Net Breakers Church in Essex, Larraine Hall, Shannon Richburg, Sharon Mathis and Carla of Roses Hair Braiding for helping them to serve over 50 families for the Thanksgiving holidays. God bless you all.
Stories this photo appears in:

Hello everyone, how are you? Because this newspaper is a positive paper about positive people, I will try very hard not speak of people in the White House who don't want to leave. COVID-19 has spiraled out of control and friends and family are sick or dying, but instead I will talk about the positive things.