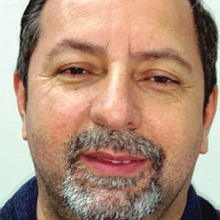 Alan Hillard Legum Civil Rights Award Walter Vasquez was born and raised in El Salvador. Vasquez later moved to Miami before ultimately settling in Annapolis. There, he opened Sin Fronteras, a Mexican-Latin American restaurant with locations in Annapolis and Glen Burnie. Since his time in Maryland, Vasquez has been an advocate for greater Hispanic and multicultural representation in Annapolis government and economic planning. This month, Vasquez opened Annapolis International Market, an international grocery store which he hopes will help stimulate cultural growth for his shoppers and the community.
Stories this photo appears in:

Annapolis— The 33rd Annual Dr. Martin Luther King, Jr., Awards Program will air virtually on Friday, January 15, 2021 at 6 p.m. The program will conclude with a viewing of the award-winning short film, "The Dream Revisited: Civil Rights In Perspective," followed by a virtual discussion of local leaders and activists, "Is Dr. King's dream being nurtured in Anne Arundel County today?" The largest celebration of Dr. King's birthday in Anne Arundel, this will be the first year the event will be held virtually via cable and social media. The U.S. Naval Academy Gospel Choir will perform during the program.